A mural is any piece of artwork painted or applied directly on a wall, ceiling or other permanent surfaces. Trompe L'oeil murals "trick the eye" because they are painted to appear 3-D.
Some of my favourite Trompe L'oeil Murals in Private Homes and Businesses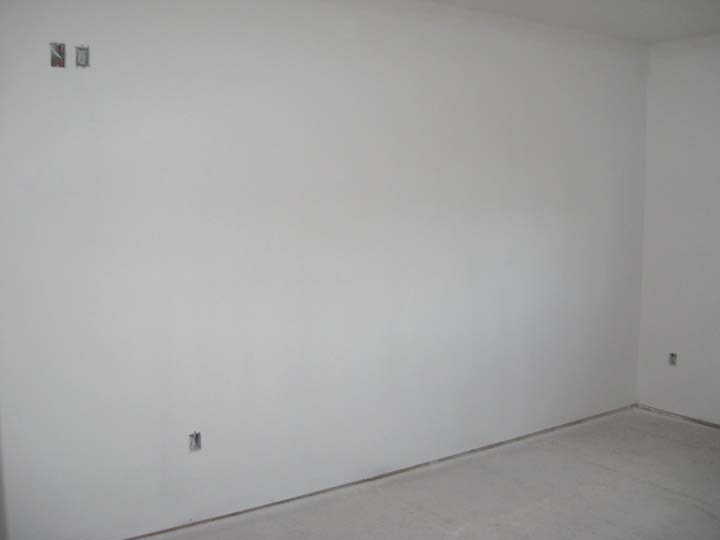 BEFORE: Brand new bedroom walls--my blank canvas.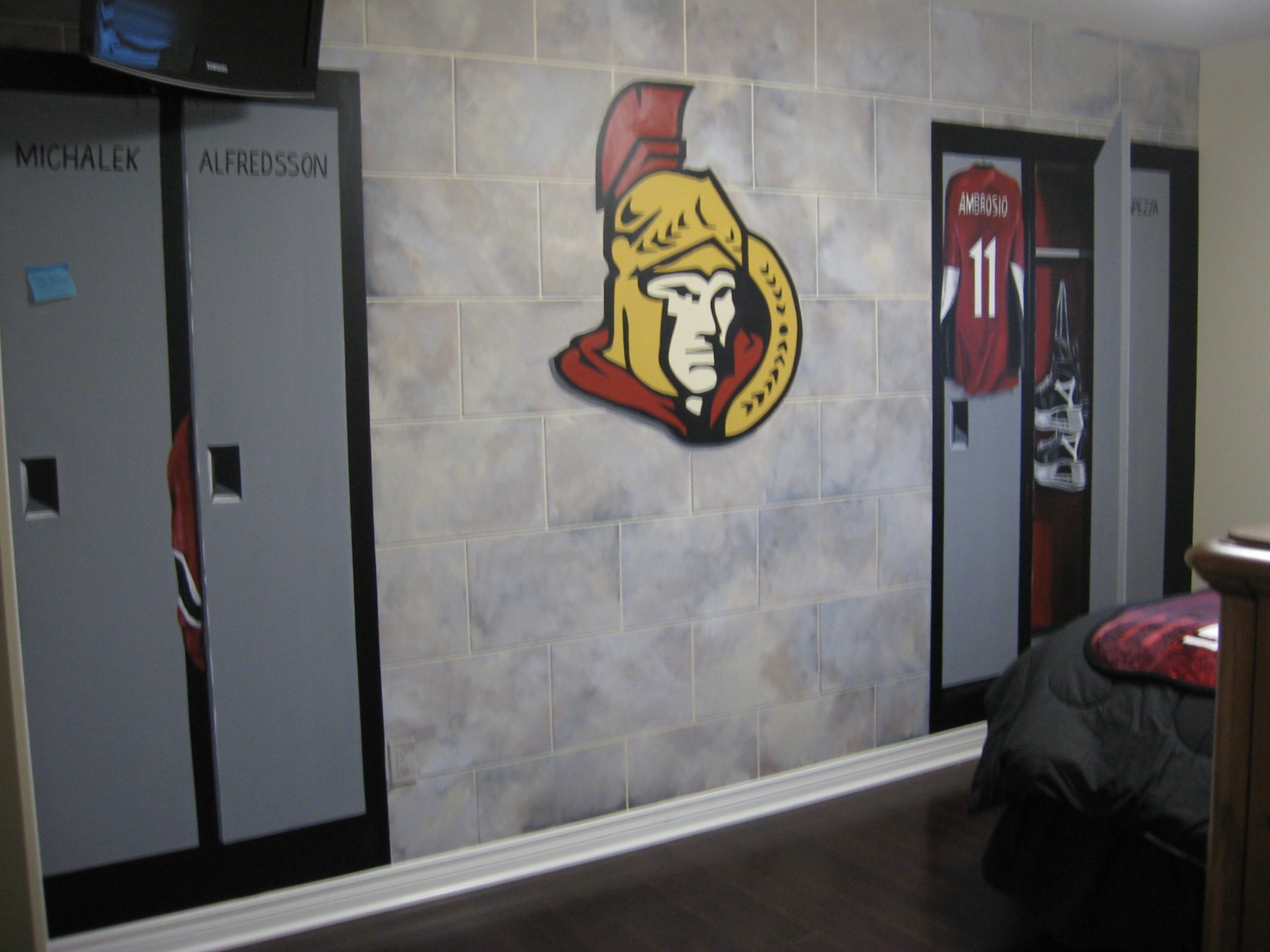 AFTER: Bedroom turned into a locker room for the boy's favourite team. Notice the stone wall, open locker and the sticky note.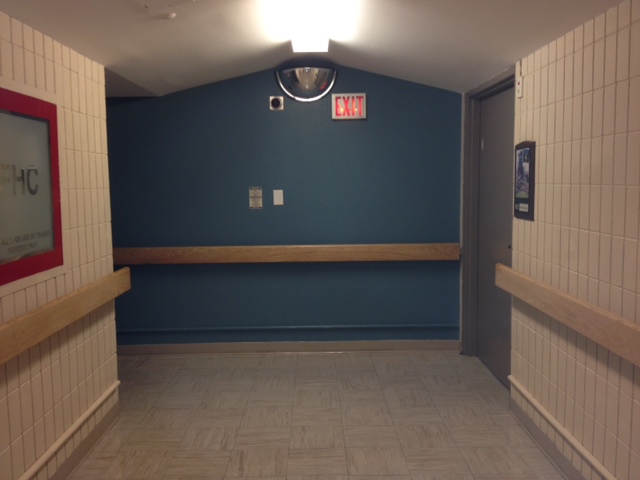 BEFORE: Same Facility as above. Other end of the hall.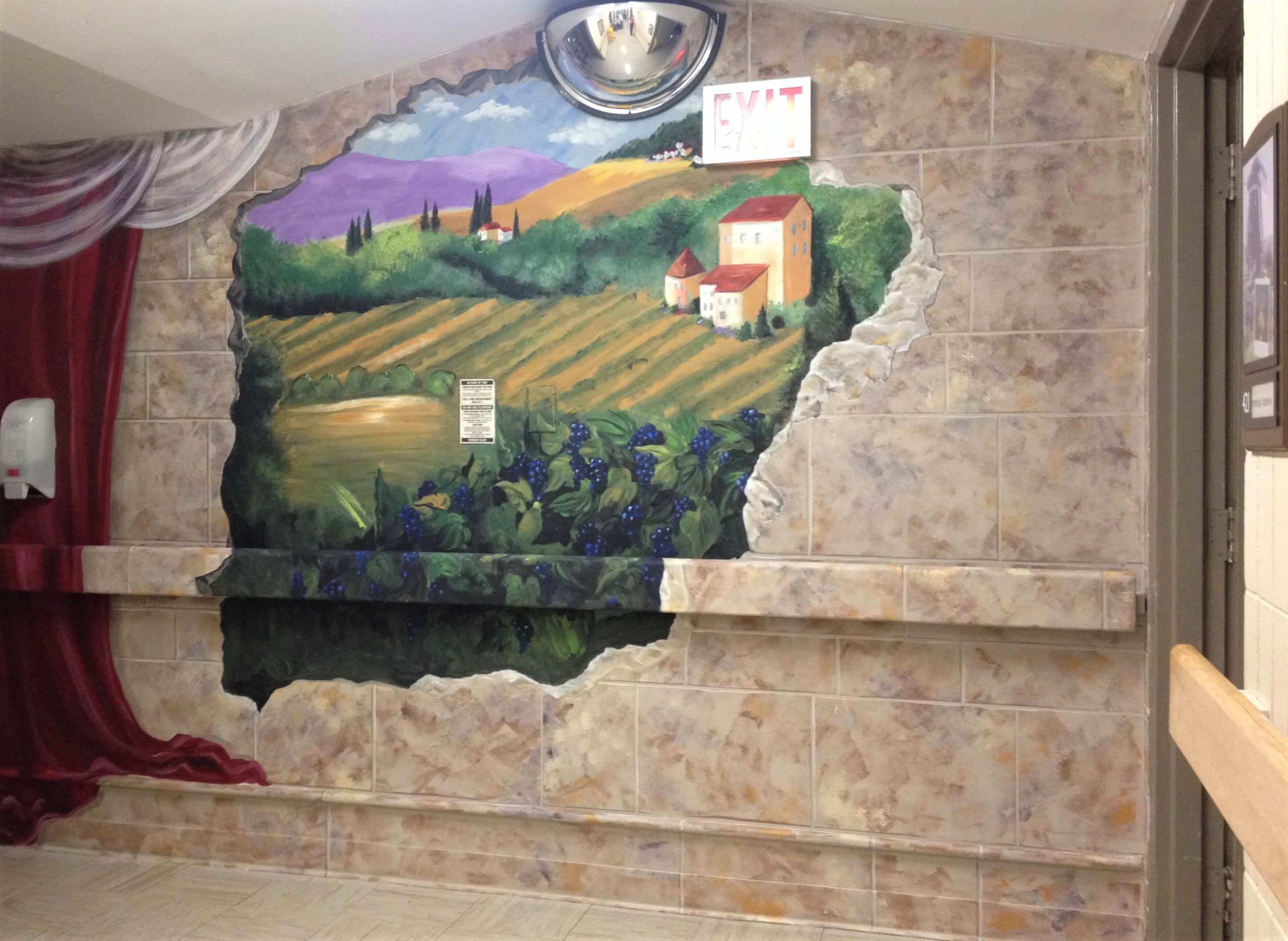 AFTER: Gorgeous red velvet drapes fall next to an opening in the stone wall revealing a Tuscan hillside.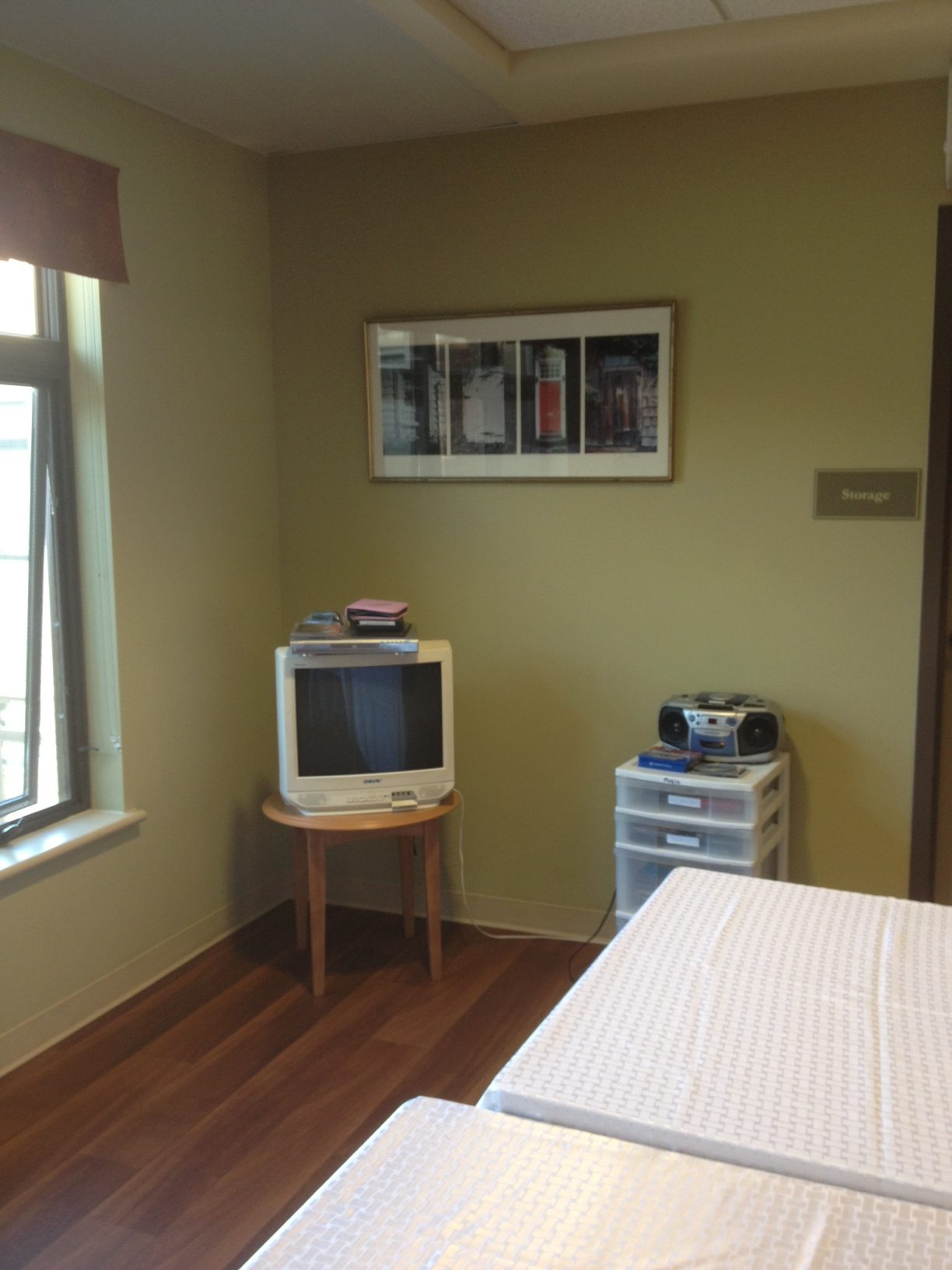 BEFORE: Recreation Room in a Grimsby LTC Facility.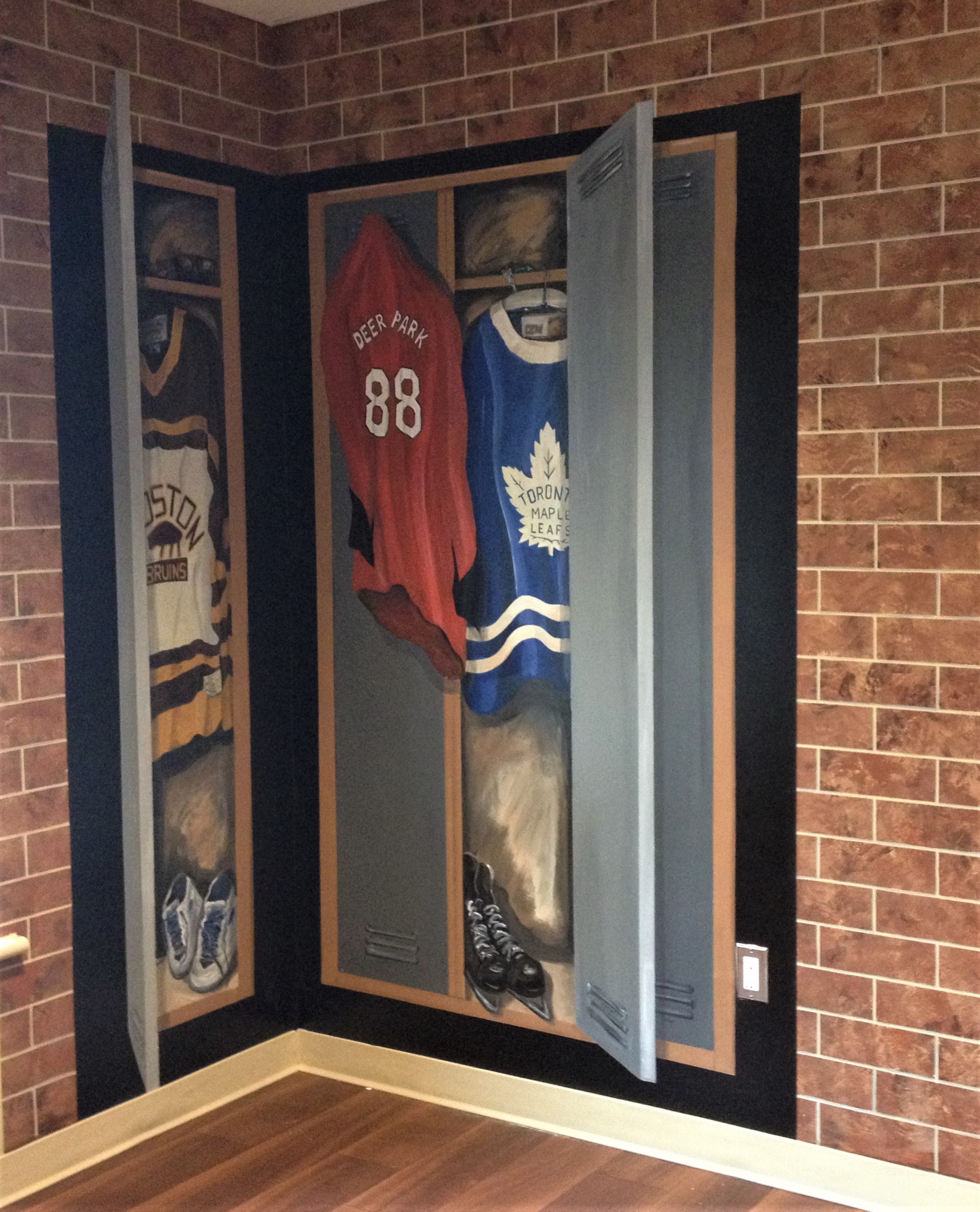 AFTER: The Rec Room becomes a locker room with old time jerseys and one of their own! Notice how convincing the open lockers and brick wall look!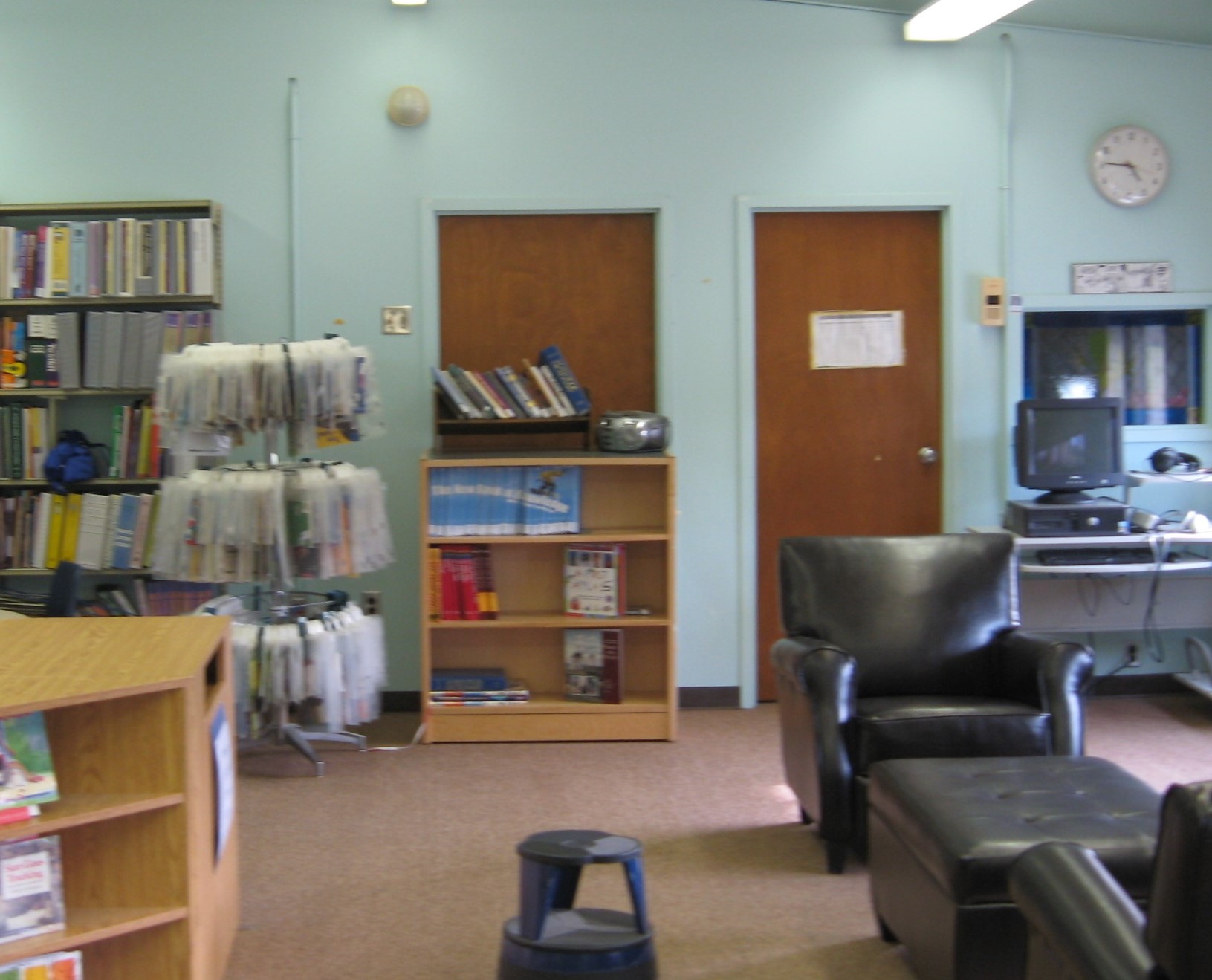 BEFORE: Boring Teacher Office doors in Glendale School Library.
AFTER: Grand. Historical. Interesting. Notice the depth created and the illusion of red brick broken open.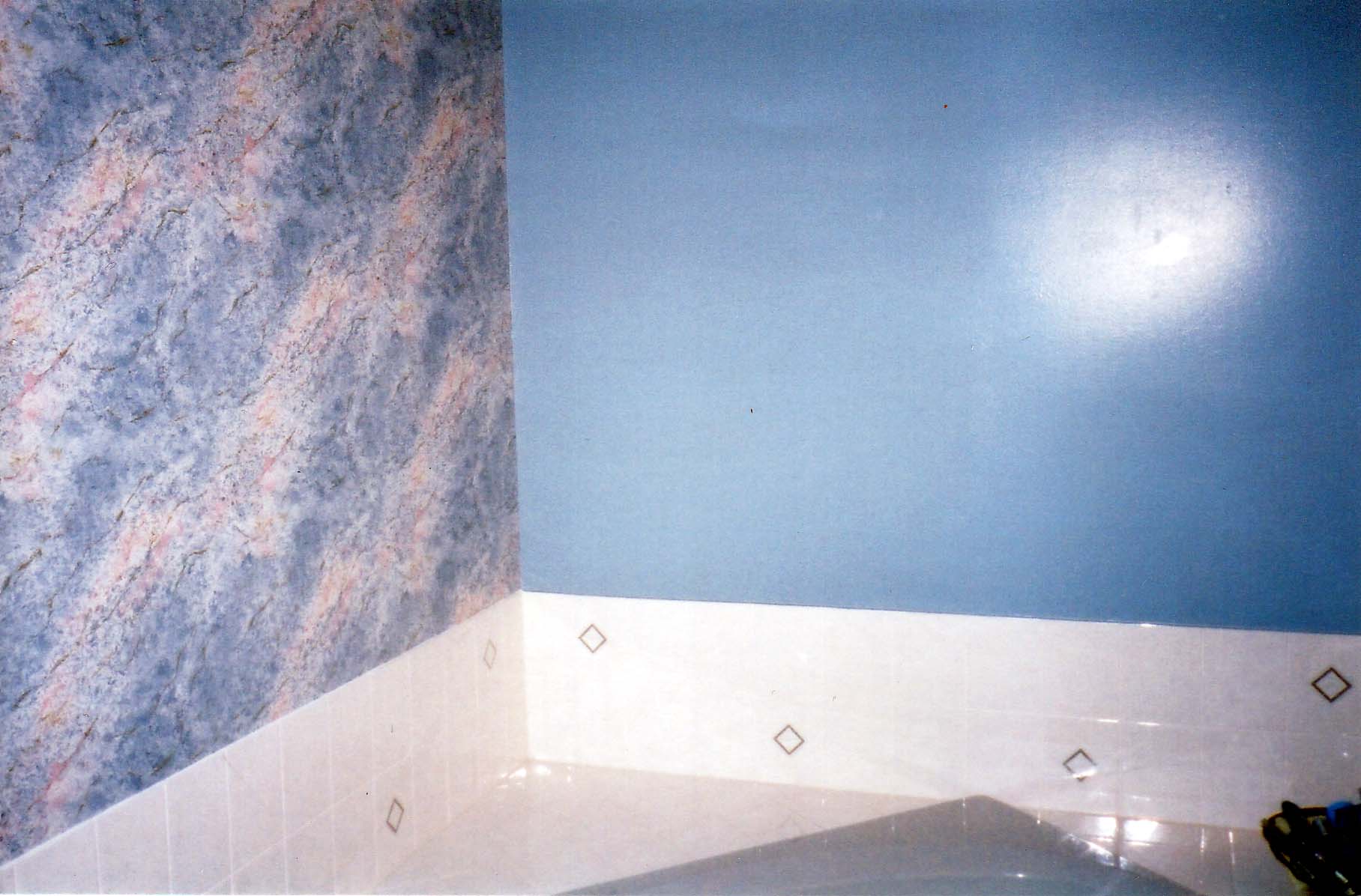 BEFORE: Dated bathroom with corner tub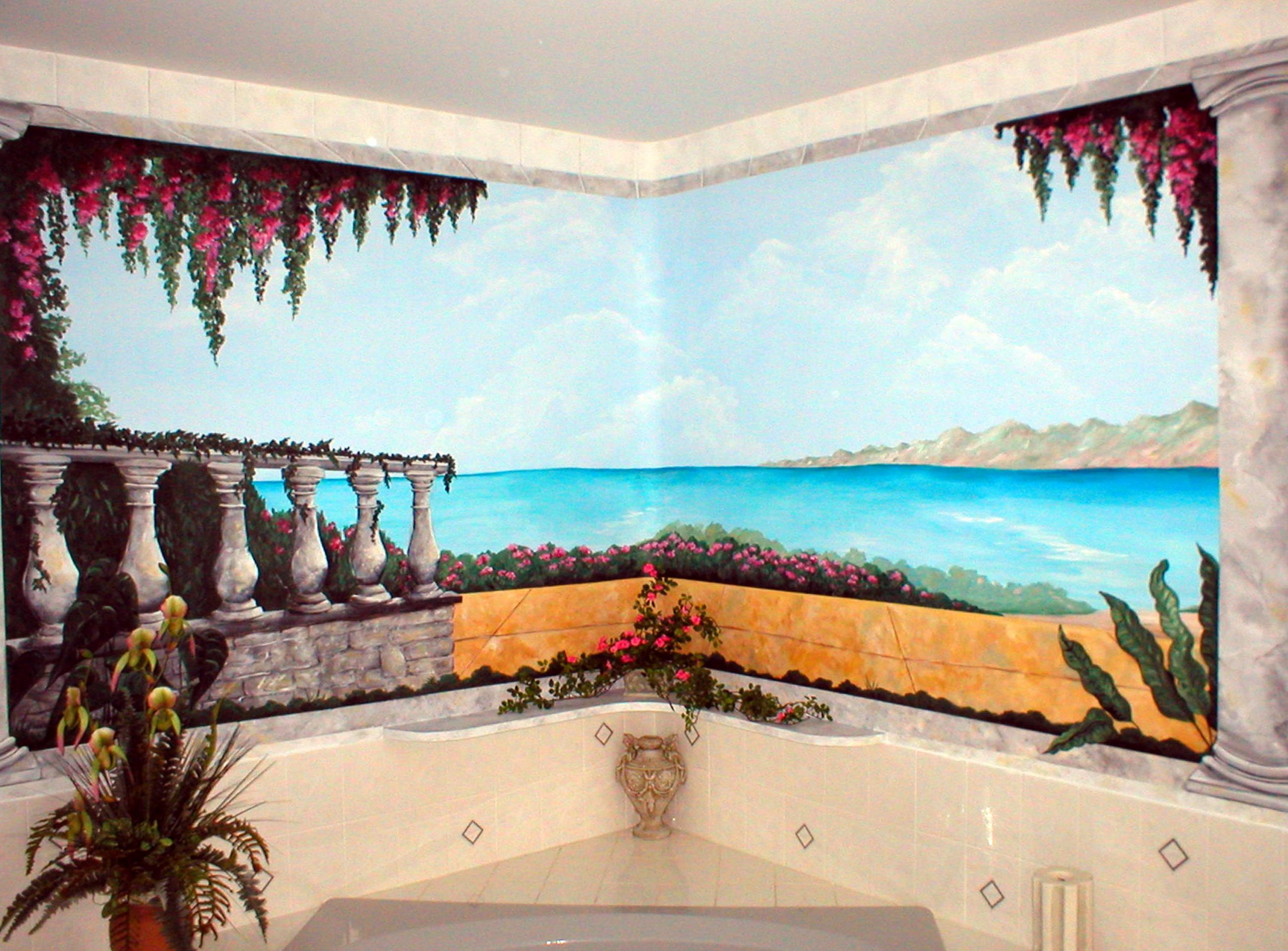 AFTER: Fabulous and romantic. The painted ledge along the top and the pillars really give the illusion of an opening.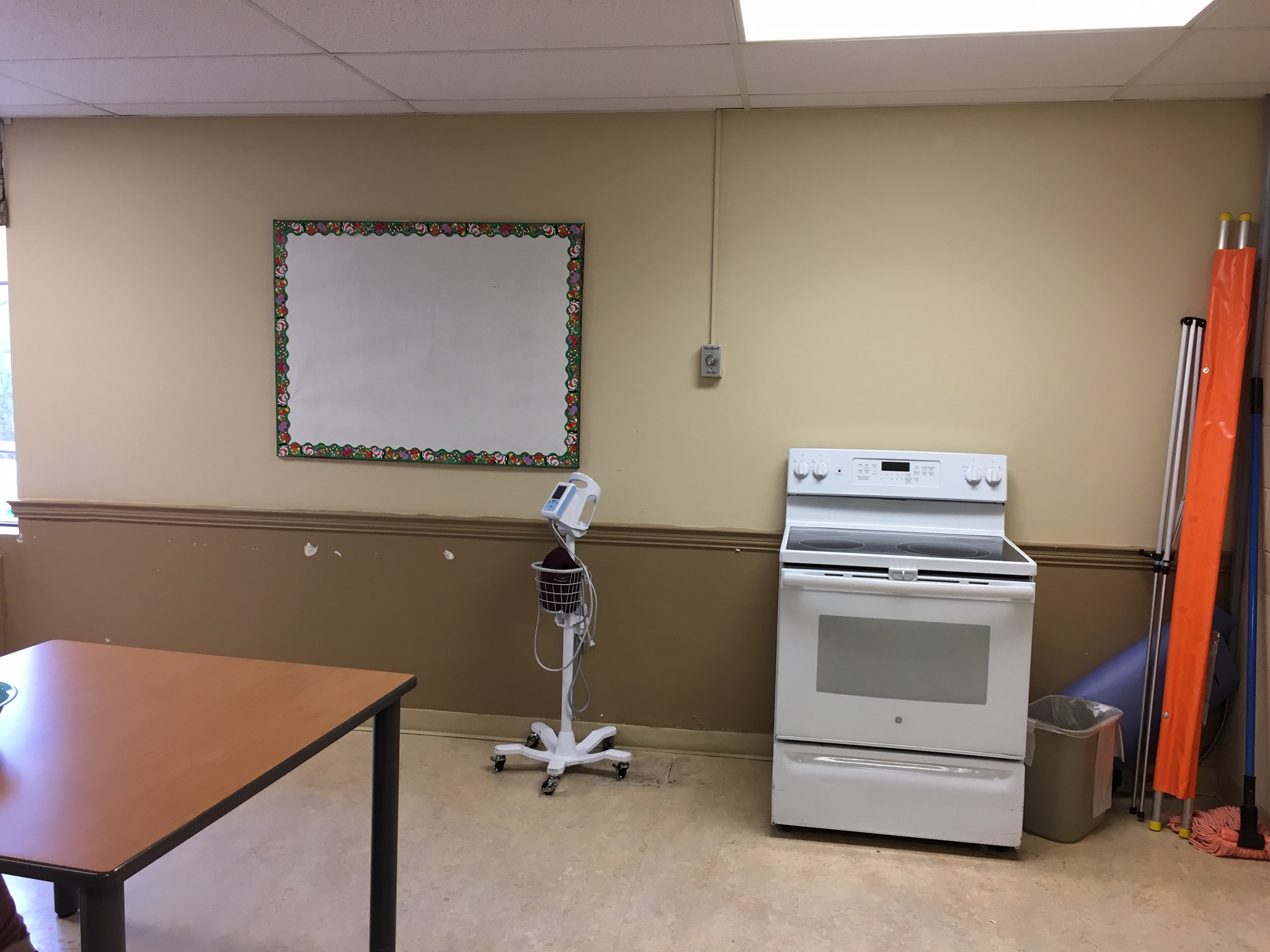 BEFORE: Wall in the common room at St. Catharines Extendicare. The existing kitchen is too small to house the stove.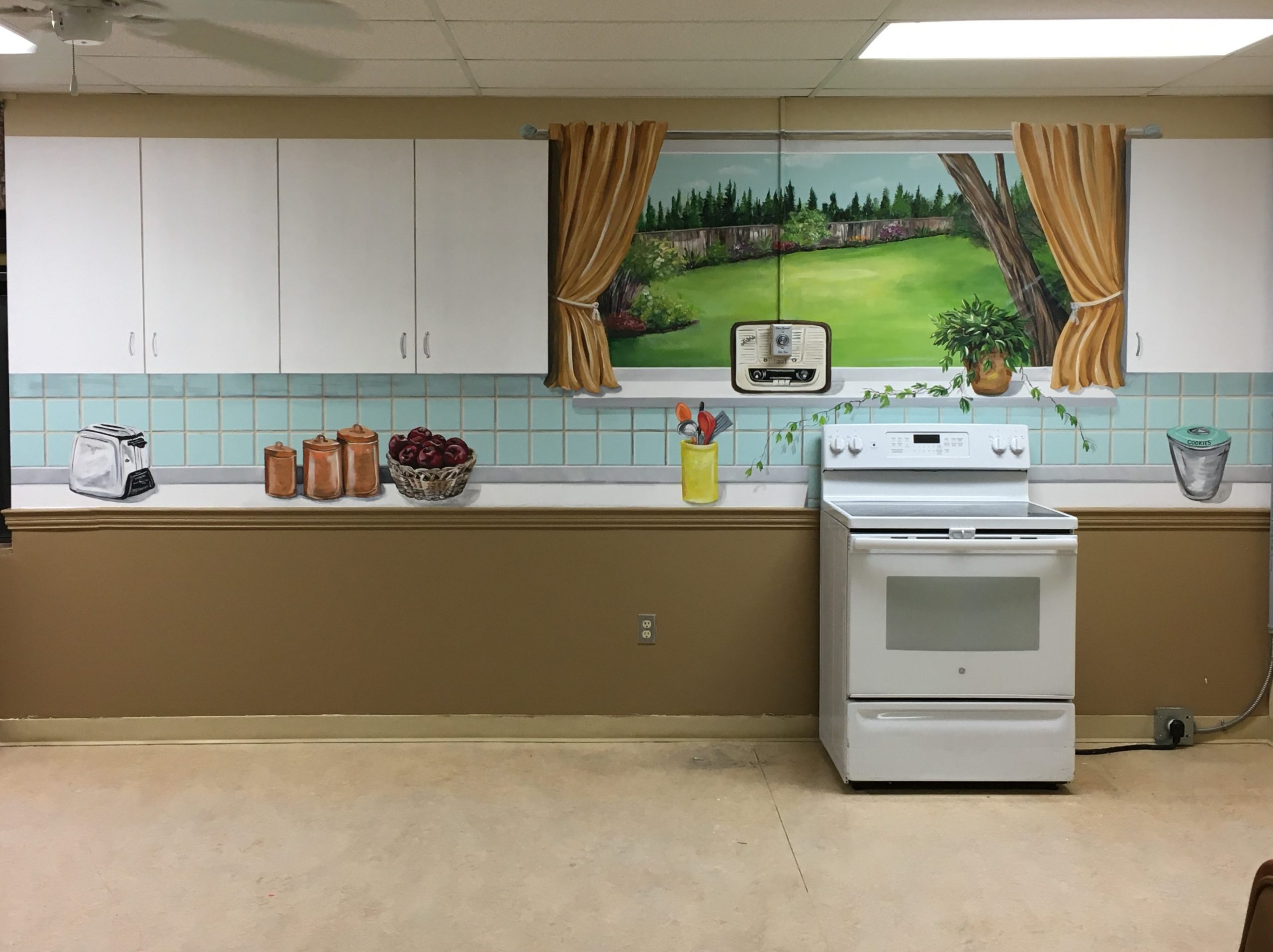 AFTER: Looks more like a kitchen. The wall is STILL FLAT despite the realism of the cupboards, counter and window.
BEFORE: Recreation Room at Northland Pointe. It's a room where residents play games, do crafts and montessori activities.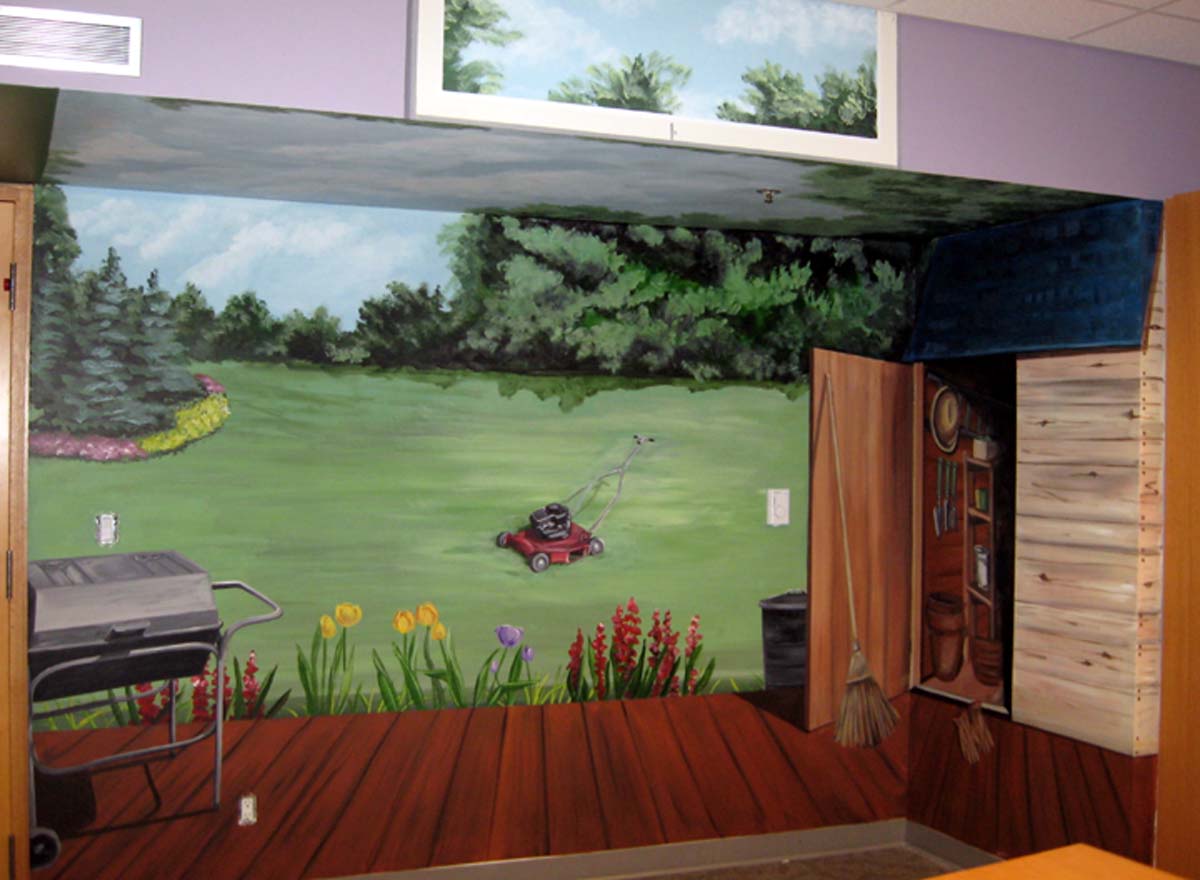 AFTER: The "Back Deck/Shed" part of the New Rec Room that now has a kitchen, laundry room and tool bench on other walls in the room. Notice how spacious it now feels!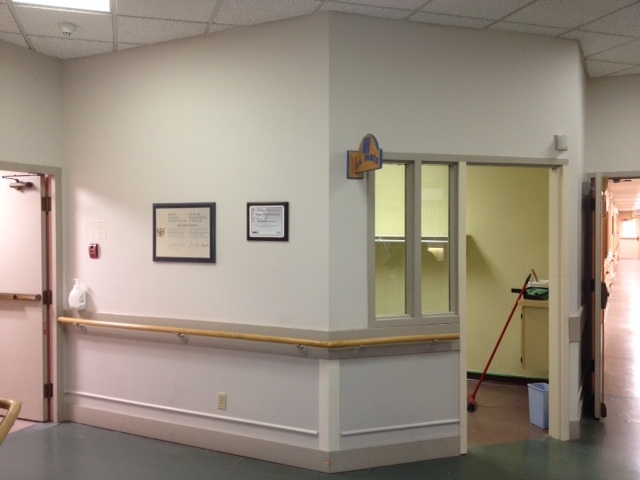 BEFORE: A pseudo store for Residents at Foyer Richelieu. Part of their wonderful Montessori program.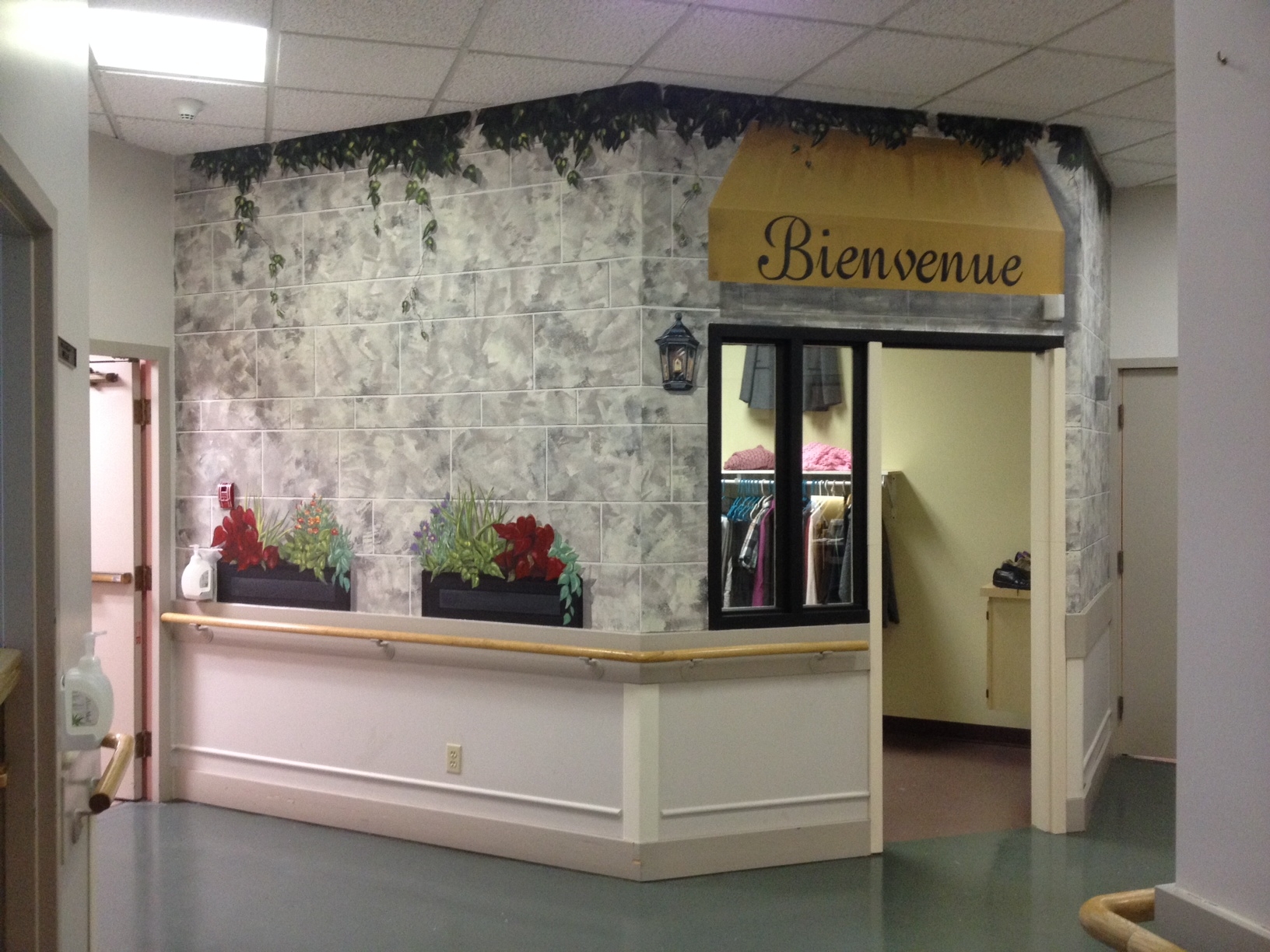 AFTER: Looking much more like an actual Boutique.
A mural in your home can add joy and a sense of more space.
The following are murals in businesses, schools, daycares, restaurants.
Let's Talk About a Mural For YOU!
How?  Click the button below to contact me for a phone consultation or call me directly at 289-213-4449. Phone Consultations are 30 minutes in length and are free. 
What happens next? I may have you send photos of the area(s) you have in mind. If an on-site visit is required, the 30 minute consultation will take place face to face. During this time, your budget will be discussed.
Is there a design charge? Yes. If you are satisfied with what is proposed in the consultation, a non-refundable charge of $150 will be required in order for me to move forward with Custom Designs for you.  The $150 will be deducted off the price of the mural when the work begins. I will present you with at least 2 custom, DETAILED computer designs based on our discussion and your estimated budget.
What is the cost of a Mural? Murals are quoted on an individual basis; however, a good estimate can be made based on square footage.
Minimal detail –$10 per sq ft /Medium detail–$20 per sq ft / Maximum detail–$30 per sq ft
A deposit of at least 50% of the total price will be required prior to the commencement of work.